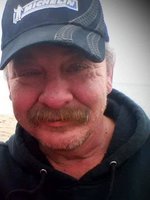 John Munroe
John Fitzgerald Kennedy Munroe
April 12, 1964-August 14, 2019
Munroe, John age 55 of Abercrombie passed away on August 14, 2019
with loved ones by his side in the Palliative Care Unit of the Aberdeen
Hospital.
Born in New Glasgow he was a son of the late Sanford and Bessie Munroe.
John worked for over 30 years in the tire profession with Andy's Tire in New Glasgow and R.T.L Construction in Yellowknife, NWT.
John is survived by his wife Sheila (Snell), Abercrombie; daughters: April McNutt, Mississauga; Courtney Munroe, Fort MacMurray; Candace Munroe, Abercrombie; step- son Sean Polley, Durham; sisters: Edith Owen, Linacy; Kathrine (Kay) O'Brien, Bedford; grandchildren : Bradley Wood, Ariel Anderson, Tucker Polley, Easton Polley, Adaline Macleod, numerous nieces, nephews and cousins.
Beside his parents John was predeceased by his sister Sylvia Mckeigan and brothers Jim and Mark.
Cremation to take place.
A celebration of John's life will be held at his residence at 1060 Abercrombie Granton Road on Saturday August 24, 2019 from 6-8pm.
The family will receive visitors from 2-4 pm Sunday August 25, 2019 at the H.W. Angus Funeral Home, New Glasgow. A private burial will follow in the Hillside Cemetery, Trenton.
In lieu of flowers, we ask you to make donations to a charity of one's choice.
angusfuneralhomes.com