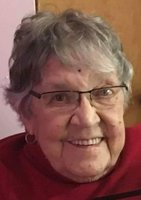 Marie Lewis
It is with heavy hearts and overwhelming sadness that we announce the passing of our precious mother, Olive Marie Lewis, 85, formally of Plymouth. On August 2nd 2019 Marie passed away at Valley View Villa surrounded by her loving family. Marie was the daughter of the late Bert and Anne Fraser of Trenton.
Marie will be remembered for her friendliness and kind heart. She enjoyed baking, shopping, the ocean, and traveling south with her husband. Always delighting in the joy of socializing, her true place of comfort and joy was in Country Harbour with family and friends.
Marie was a loving mother and devoted home-maker, and dedicated employee at Michelin Tire for 17 years. She is survived by her one true love of 67 years, Joseph Lewis, and their eight children; Geraldine Chisholm (Gregory), Debbie Hurlburt (Kevin), Carol MacKenzie (Bryan), Brian Lewis (Pauline), Wayne Lewis (Sharon), Karen Doucette (David), Alta Worthen (Todd), Tanya Bowers (Edmund), 20 grandchildren, 21 great-grandchildren, and one great-great-grandchild. Marie was predeceased by her sister, Mabel Fraser, and her granddaughter Karen Chisholm.
We wish to sincerely thank Dr. Jeans and the staff at Valley View Villa for the care and compassion that they. provided Mom, Dad and our family.
Her remains will rest at H.W. Angus Funeral Home, New Glasgow for visiting on Monday, August 5th from 2-4 pm and 7-9pm. Funeral services will be held on Tuesday, August 6th at 11 am from St. John the Baptist Roman Catholic Church with Father Tom MacNeil presiding. A reception will follow the service. Family burial will take place at a later date.
Donations in lieu of flowers can be made to the SPCA, or a charity of your choice.