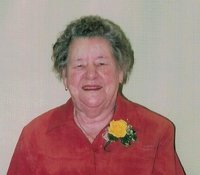 Mary Nicholson
August 2, 2019
Nicholson, Mary Rita, 101 of the Valley View Villa, Riverton formerly of New Glasgow passed away August 1, 2019 at the villa.
Born in Havre Boucher she was a daughter of the late Joseph and Anastia DeCoste.
She was a long time resident of New Glasgow, having resided in the Valley View Villa, Riverton for the past 7 years and in Moncton for 7 years prior to that.
She was a former employee of the Tara and Heather Motels in New Glasgow.
She was a wonderful momma who loved her family very much. She was a good and kind friend to many who knew her, always upbeat and happy. She was an avid baker, making beautiful wedding cakes.
She is survived by a son Joey(Loida), daughters: Diane(John), Carol(Sandy), Marie(Timmy), Margaret(Bruce), 11 grandchildren; 17 great-grandchildren; 1 great-great grandchild, much loved daughter-in-law Maureen, a sister Elenor.
She was predeceased by her husband Arthur Raymond Nicholson, a son Arthur, brothers: Joseph, Alfonse and Gerard, sisters: Ethel and Myrtle
Her remains will rest at the H.W. Angus Funeral home, New Glasgow for visiting from 6-8pm Tuesday August 6, 2019. Funeral services will be held 11am Wednesday from St. John The Baptist Roman Catholic Church with Father Tom MacNeil presiding. A reception will follow the service . Burial will take place at Heatherdale Memorial Gardens.
angusfuneralhomes.com