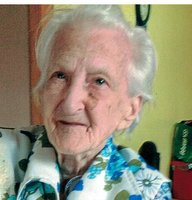 Doris Marguerite Salter
Doris Marguerite Salter ,98, of Mt. William passed away peacefully surrounded by family in the Palliative Care Unit of the Aberdeen Hospital on July,30th ,2019.
Born in Thorburn , she was a daughter of the late John "Jack" and Margaret Ann (English) Brown.
Doris devoted her life to caring for others , especially her son John Howard. Doris loved to feed the racoons and squirrels who kept her entertained every day. Doris was the last surviving member of her immediate family.
Surviving are nephews Wayne (Bernadette) Cooke , Trenton Bill (Erma)Cooke ,MacLellan's Brook and nieces Shirley (Jack) Wieler, Carleton Place ,Ontario, Sharon (Tom) Dudka and Sheila (Edgil) Hayter ,Linacy as well as many great nieces and nephews.
She was predeceased by her husband John James Salter ,her son John Howard Salter and sister Nellie Cooke.
The family will receive visitors form 7-9 P.M. on Saturday in the H. W. Angus Funeral Home , New Glasgow . Funeral service will be held on Sunday at 3 P.M. from the Union Presbyterian Church Thorburn with Mr. John Reeves officiating. Burial will be in the Thorburn Cemetery.
The family would like to thank the nurses at the Aberdeen Hospital for their exceptional care of Doris. We would like to thank the VON homecare staff ,Doris looked forward to their visit each day. Thank you to Dr. Zibiri and Dr. Anne Kwasnik for their compassionate care.
Donations in memory of Doris be made to the Palliative Care Unit of the Aberdeen Hospital or to the VON.
Online condolences may be sent to angusfuneral@ns.sympatico.ca