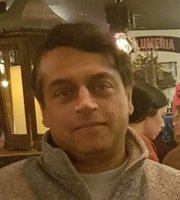 Ashley Sebastian
Sebastian, Ashley-
Ashley Sebastian was born on November 11, 1961 in Cleveland, Ohio to Dr. M.S. Sebastian and Dr. Shanti Sebastian (Kovoor). He graduated from Stellarton High School and attended St. Francis Xavier University and received his B.Sc degree. He later graduated from Dalhousie School of Dentistry and practiced in a number of locations. including two years in St. John's NFLD. He was primarily associated with the practice of Dr. Mark Dickson in Springhill NS (7 years) and Canso NS(7 years). More recently Ashley worked for the Province of Ontario serving First Nations peoples in northern Ontario. Ashley took a great deal of satisfaction in being able to provide dental care in underserviced areas.
In addition to these accomplishments, Ashley was known to his friends and family for his quick wit, sense of humor, but mostly for his passionate love of music and his talented guitar playing.
He is survived by is parents, Shanti and Sebastian, his brothers Allen (Gwen) and Matthew and nieces and nephews Elizabeth, Tess, Duncan, Olivia and Gabrielle, Anna Maria, and Adam.
A Funeral Mass will be held at Our Lady of Lourdes Church, 112 Foord St. Stellarton, N.S. on Saturday July 27, at 11.00 AM. Following there will be a reception and celebration of his life at the Summer Street Industries 72 Park St, New Glasgow N.S.
The body has been cremated and there will be no visitation. Interment will be at a later date at Our Lady of Lourdes Parish Cemetery.
Flowers from family only, donations in lieu of flowers can be made to Summer Street Industries 72 Park St. New Glasgow, NS B2H5B8, or the Sister Catherine Steele Center 112 N. Foord St, Stellarton, NS B0K 1S0.
angusfuneralhomes.com